Here at Moxley Carmichael, we like to celebrate.
Among many other activities, we host monthly birthday gatherings in our conference room.
We have a cake for the employees whose birthdays fall in that month, and we do our best to sing an in-tune "Happy Birthday" song.
The flavor each month changes as ordered by the honored guest(s), but the cakes always come from the same place, Magpies Bakery, and they're always over-the-top beautiful and delicious.
When it recently came time to celebrate Cynthia Moxley's 60th birthday, the party got a lot larger than our conference room. This birthday bash took place at Holston Hills Country Club and included entertainment by Con Hunley and more than 300 of her closest friends in attendance. We once again counted on the exquisite expertise of Magpies, and the result was a stunning 3D-replica of Cynthia's beloved cat, Rexie.
The cake was a huge hit and procuring it was as easy as placing the order, sharing some pictures of Rexie and then picking up the cake on the day of the party.
As we oohed and aahed over the Rexie masterpiece, we couldn't help but remember the vastly different circumstances surrounding the cake for Alan Carmichael's 60th birthday party.
For Alan's party, we designed an invitation that included pictures of things invented in 1947, the year he was born. We saved the best photo for the card's interior – one of baby Alan in his birthday suit on a rug.
Always a good sport, Alan went along with our idea to have his birthday cake emblazoned with the "Baby Alan photo" from the invitation.
This party occurred before we developed an ongoing relationship with Magpies. The birthday cake process wasn't nearly as seamless, and the end result, as you will read, was just as remarkable but in the wrong way.
It took some time, but we located a vendor who assured me they could create the caricature of Alan as a baby using icing.
"No problem at all," the lady said. "I do this kind of stuff all the time."
I placed an order for two large cakes and moved on to other planning matters for the party.
When I went to pick up the cakes the morning of the party, I experienced a shock that sent my blood pressure soaring to heights that should have induced a stroke. The cake was a mess. Instead of Baby Alan on a bear skin rug, I saw something that looked remarkably like a naked Hamburglar riding on a magic carpet.
Sensing my displeasure, the lady who handed me the cakes explained that she had been forced into service by her boss, the one who promised me she could easily handle the assignment.
"I told her I couldn't do it," she said with a shrug.
I left the store with two giant, unusable birthday cakes and one sweet mess. I called my colleagues in a panic, and we all agreed that the best course of action would be to find someone who could fix the cake.
The owner of a store that sells specialty cake baking supplies directed me to a reputable private baker, who had enough time to fix one of the cakes. She later said she scraped 10 pounds of icing from the cake before starting her repairs. Apparently, the would-be cake decorator had attempted a lot of re-dos before calling it quits.
The cake turned out well, and few people outside of Moxley Carmichael were aware that there had been a problem. I fortunately suffered no long-term heart problems from the sudden rise in blood pressure, and the Hamburglar Cake story resurfaces from time to time and always gives us a good laugh.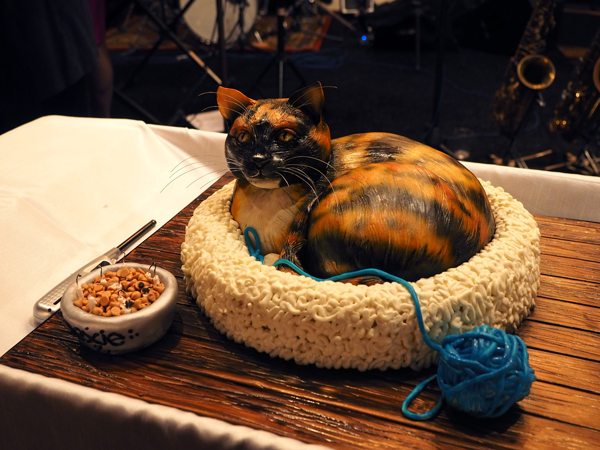 Even though we're able to smile now and it turned out well, I can't help but think how differently it would have been handled if we had gone to Magpies with our request for the "Baby Alan" cake.
I'm a firm believer that vendors can make or break event planners, and good ones are worth their weight in gold. And icing.
Michelle Henry is a recovering event planner who now serves in a part-time role at Moxley Carmichael with a focus on writing. When not at the keyboard, you'll likely find her at the pool – or thinking about being at the pool – or somewhere with her nose in a book.